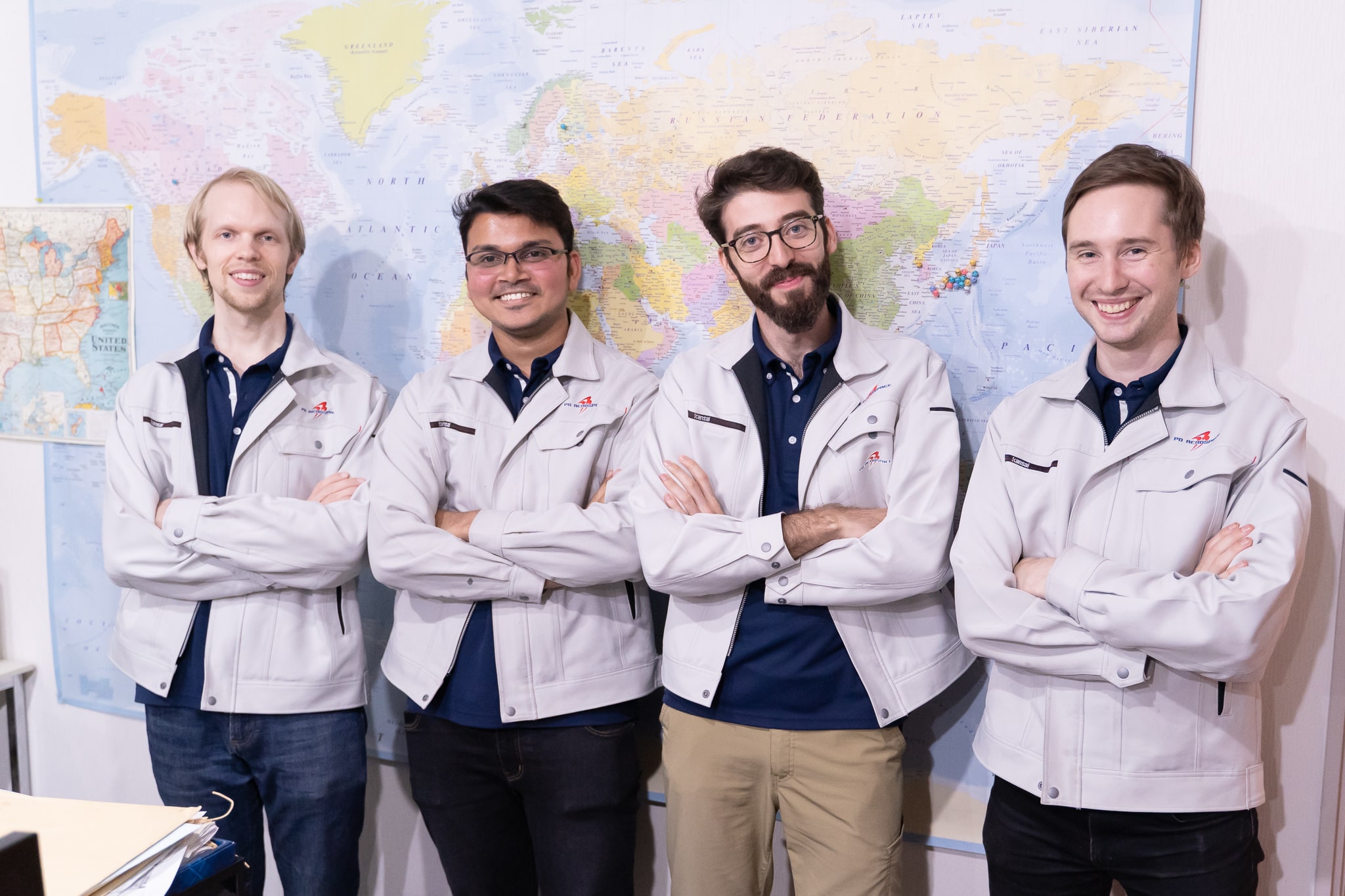 Foreign staff round-table talk
Why did you come to
PD AeroSpace?
PD AeroSpace (PDAS) has a diverse workforce from all over the world. Foreigners make up a quarter of our employees. Some employees have come to Japan to join PDAS. We spoke to three people to find out why PDAS is attracting such a diverse group of people.
Anssi

UAS team, from Finland

Nicola

UAS team, from Italy

Tharun

Engine team, from India

Carl(Interpreter)

UAS team, from Canada

Nagao(Interviewer)

Uchu House member
(Volunteer team)
―In Japan, especially Tokyo and Osaka, the number of foreigners has been increasing. But PDAS is located in Hekinan city, which is a little far from Nagoya city, the center of Aichi prefecture. You probably needed courage to dive into working at PDAS, which is a suburban venture company. What attracted you to it?
Anssi: I saw the opportunity and potential in PDAS. There aren't many other companies in the space field, and the fact that it is a venture also appealed to me. Compared to a traditional company, it's a workplace that demands innovation on a daily basis, so the atmosphere is more challenging for the staff I work with. I was also attracted to the fact that I had a larger role to play than what would be possible in a large corporation and I could see the results of my work right away.
Nicola: Like Anssi, I saw the potential in PDAS, where I have a bigger role to play because I'm entrusted with important work, and where I can see the results of my work immediately because of the short development schedule. For example, I can quickly move on to the next development cycle because the design I designed in January of this year will be tested by the end of the year.
Tharun: My focus during university was more often than not related to computer aided modelling, programming etc... So I desired for an opportunity that gives me a chance to do both CAE and practical hands on work like testing etc. I also didn't want to embark on a career that was too specialized, and I wanted to do a wide range of work, including field work. Another reason that attracted me to PDAS is the rare opportunity to be a part of a spacecraft development project from an early stage.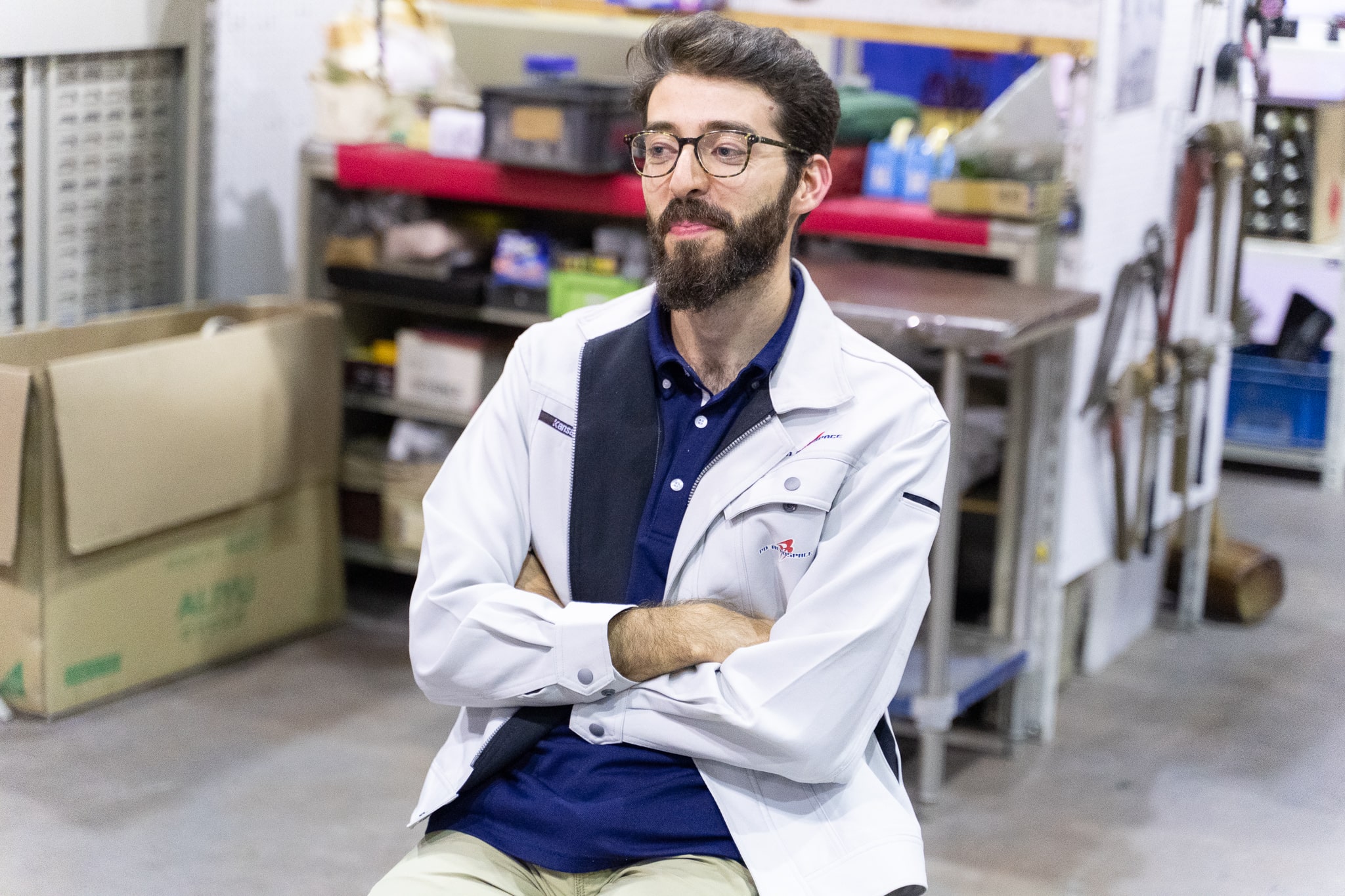 ―Although PDAS has an English version of its website, it is still a small company and it is difficult for foreigners to find it. How did you find out about the company?
Anssi: I was living in Japan and wanted to work in the aerospace field. When I was looking for a job, I searched the Internet and found PDAS which was looking for drone / UAV engineer at the time. The small size of the company was a bonus.
Nicola: I met a Japanese person during my University studies at University of Bologna Italy. We were attending the same "Applied Aerodynamics" class and soon we became good friends. I think that he played an important role in raising my curiosity in Japan and Japanese culture that sounded different on many details from the Italian one. After graduation I started working as structural engineer in a good Italian company were I could learned a lot. However, my curiosity for Japan did not fade away so I kept looking for an aerospace company based in Japan. I found PDAS in my internet search. I decided to give it a shot so I quit my previous job and and I left for this adventure.
Tharun: I became interested in PDAS when I saw a review on a portal site written by a student who had interned at PDAS during his master's degree at a university in the Netherlands.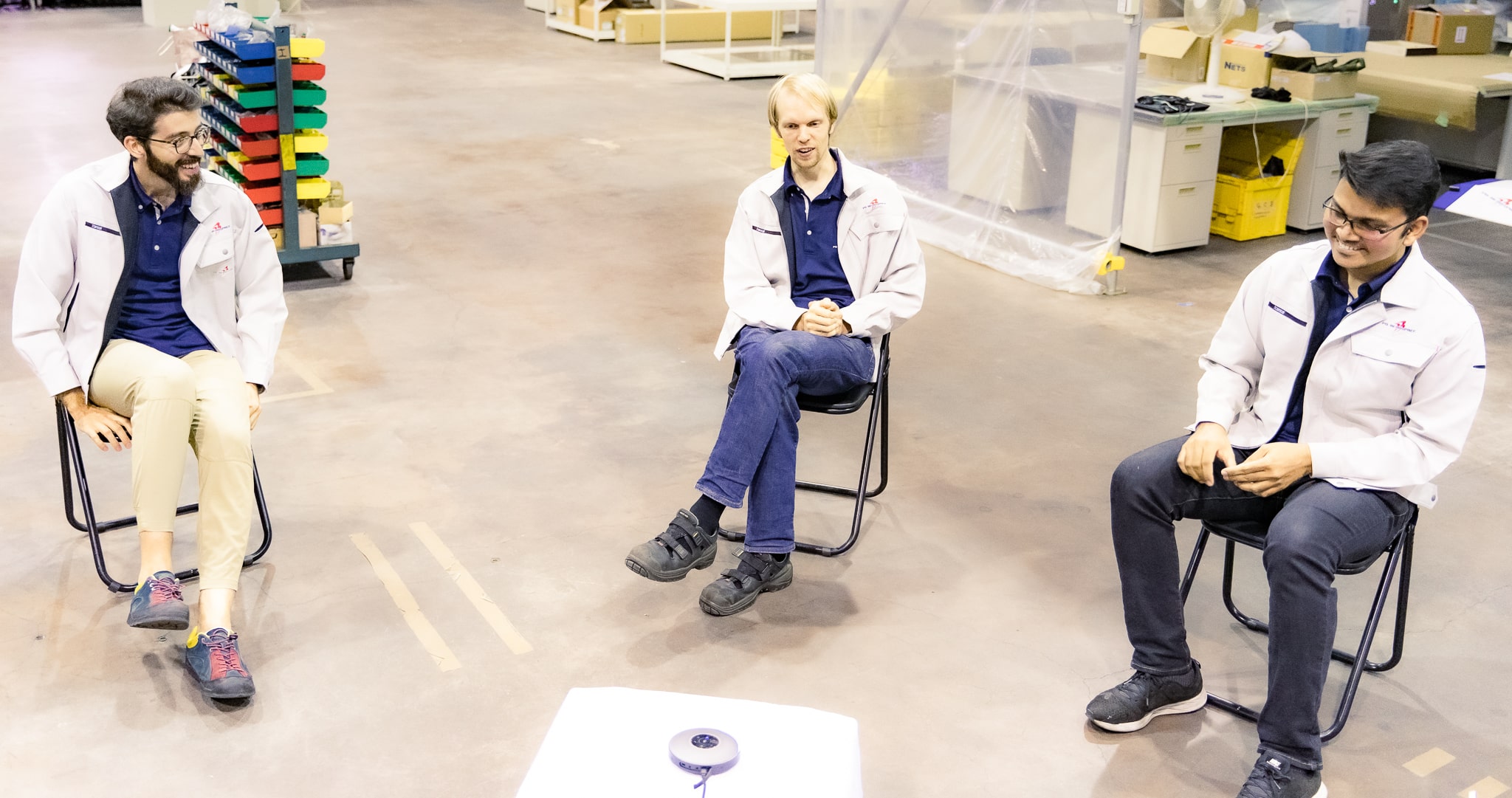 ―You must have felt uneasy about working in Japan because the lifestyle and work culture are different between Japan and your home country. Was that difficult for you?
Anssi: I had studied abroad in Japan when I was in college and knew the culture well, so I wasn't worried at all.
Nicola: Japan is a safe country and I wasn't worried about security at all. However, the procedures for signing an apartment contract and registering residents were difficult to understand and I was worried. I was also worried about communicating in Japanese.
Tharun: I was okay with living in a foreign country because I had experienced living in the Netherlands and other countries, but I was worried about Japan because it has many earthquakes and other disasters. I was worried about my Japanese language skills, but I had experienced the language problem in India, where the official language is multilingual and there are different dialects in some areas, so I thought I could handle it.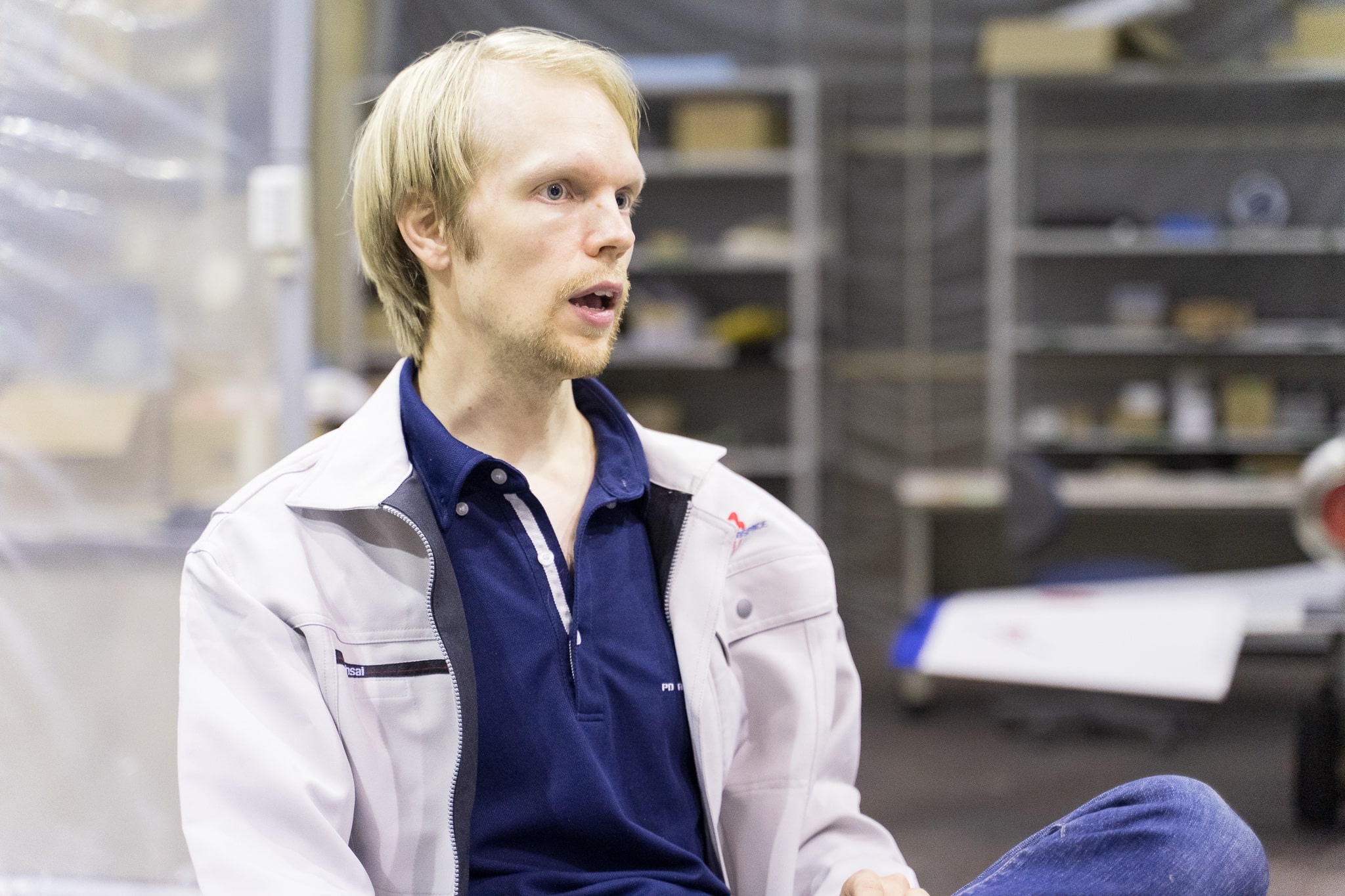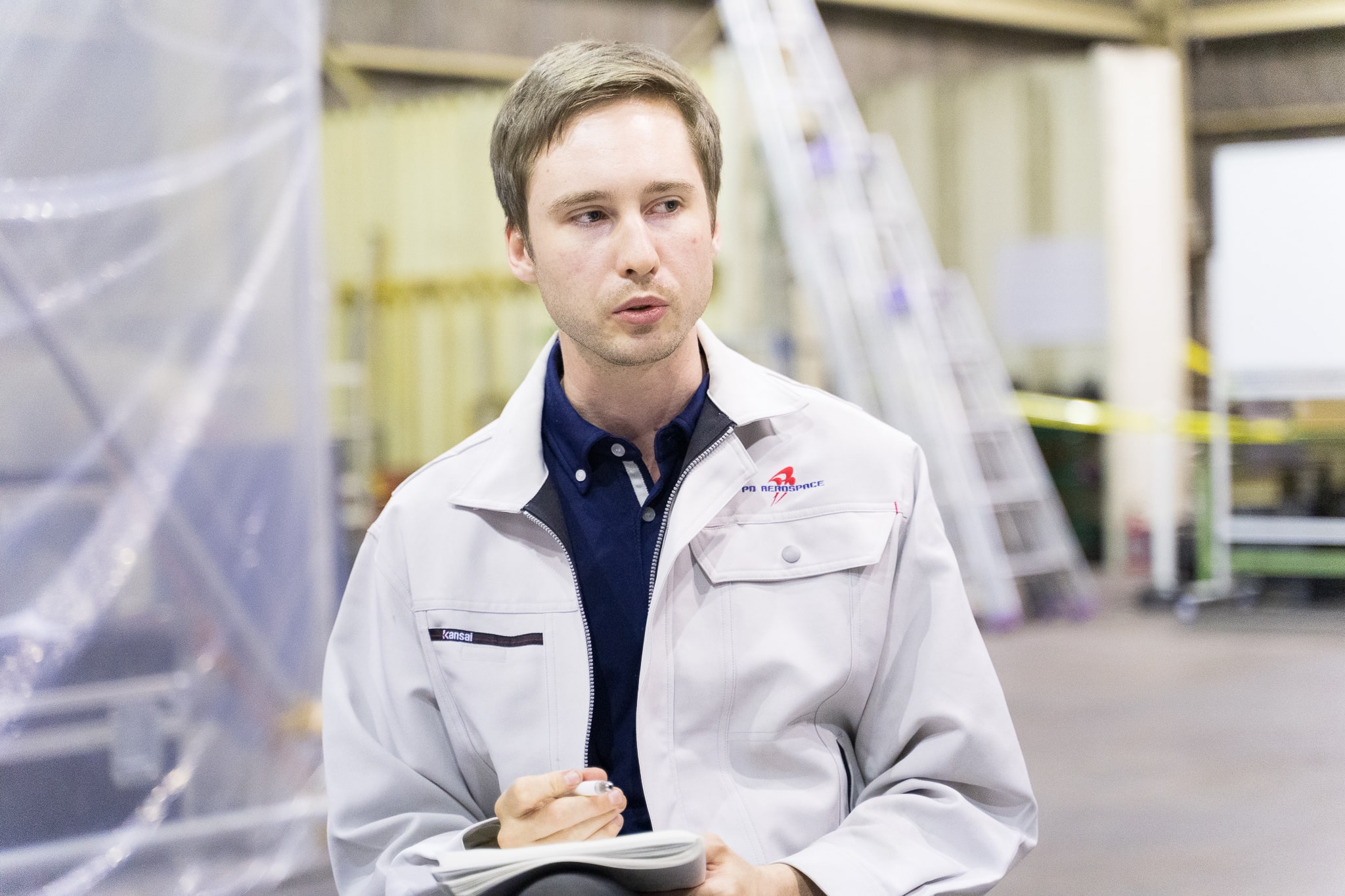 ―Are there any differences between your work at PDAS and what you imagined before you joined the company?
Anssi: In fact, PDAS was just as I imagined. However, I was surprised at how difficult it is to recruit engineers in Japan because there are not many aerospace engineers in the country.
Nicola: Previously, I worked for a medium size company's structural engineer. I joined PDAS with the expectation that I would be able to do a wider range of work, both "desk work" (structural design, and analysis) and testing activities on the field. I had never heard of Hekinan before I came to Japan. but I am glad that I lived here. However, I feel that it would be good if there were more opportunities, for extra work activities such as sport clubs, etc.
Tharun: I have been very surprised at how polite the Japanese were. They were so polite that I was worried that I was not polite enough. Unlike the internship I did at another company when I was in college, I was also surprised to learn that at PDAS, experiments take precedence over modeling.
―What is the best thing about PDAS?
Anssi: The fact that one can have a large impact on the project and the possibility of being entrusted with heavy responsibilities.
Nicola: The good thing is that I can work in a wide range of activities, not just as a specialist. In addition, my colleagues are friendly and have good relations.
Tharun: I like the fact that I have been given responsibility for my work. Also, I have met some great colleagues.
―How will you rejoice when the first manned space flight is made on a PDAS spaceplane?
Anssi: First, I think I'll be surprised that we really were able to do it. After the initial astonishment has passed the feeling will turn to joy and happiness.
Nicola: I think I would feel a great sense of pride. I probably would be silent and amazed in the first place but soon after that, I think I'd shout 'Sugoi!'.
Tharun: I think I will feel proud and happy, and after it has sunk in, I'll take the next step in my career because I've achieved a great goal for PDAS.