Development Plan and Status
The unmanned aircraft will be developed first, and the service is scheduled to start by 2022.
We will also start developing manned aircraft in parallel with the unmanned aircraft development process.
In the development of the manned aircraft, we will feed back the issues that arose in the operation of the unmanned aircraft and confirm the reliability of the manned level. After certification of the aircraft in Japan, we aim to start operations in 2025.
PLAN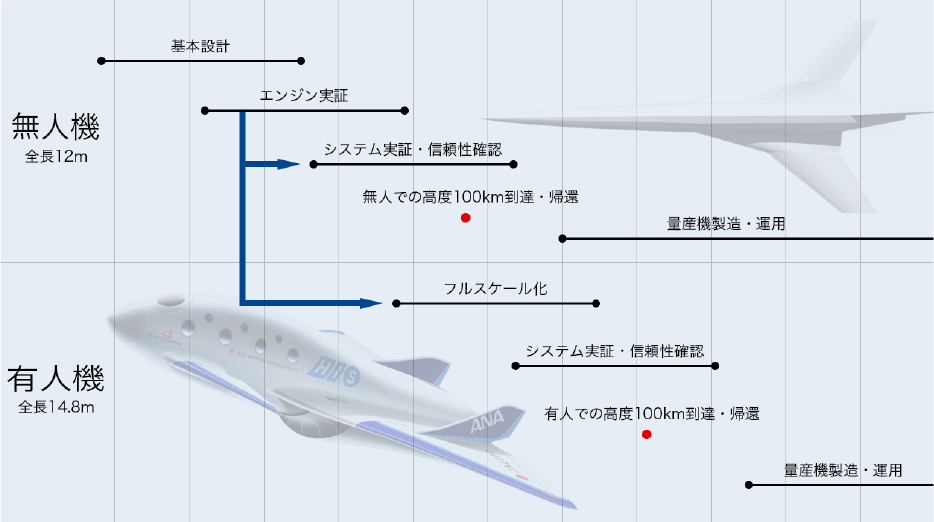 STATUS
We are currently in the
development phase of elemental technologies for unmanned vehicles.
We are working on these developments in parallel as key elemental technologies.
Engine

Detonation,
combustion mode switching

Airframe

High altitude & high speed,
re-entry support

Control

Long-range remote control,
Autonomous navigation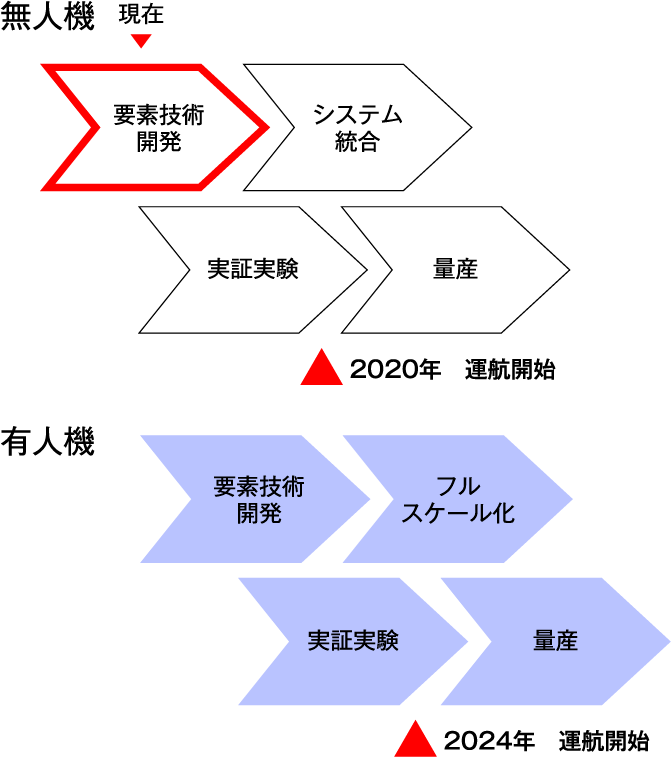 Developments
Engines
【Pulse detonation engines】
Airframe/Control System
PDAS-X01 flight demonstration aircraft
※August 2008 First flight
Total length:1475mm
Overall width:1545mm
Full weight:6.5kg
Power:Pulse jet x 2
Fuel:Gasoline
Altitude:50m
Speed:80km/h
PDAS-X02 Flying Test Bed (FTB)
※December 2010 First flight
Total length:3050mm
Overall width:2137mm
Full weight:30.1kg
Power:Gas turbine x 1
Fuel:kerosene
Altitude:555m (barometric altitude)
Speed:255km/h
PDAS-X03A Unmanned Technology Demonstrator
※March 2013 First flight
Total length: 1455mm
Overall width: 1778mm
Full weight:3.5kg
Power: Electric motor x 1 unit
Fuel: Battery
Height:- m
Speed: – km/h
PDAS-X04 unmanned technology demonstrator + long-range flight demonstrator
※January 2013 First flight
Total length: 2286mm
Overall width: 3300mm
Full weight:21.5kg (MTOW)
Power: 1 x 2-st 28cc engine
Fuel: Gasoline
Height:- m
Speed: Max 130 km/h, Cruise 80 km/h
Cruising time: 10 hours (4000cc tank)