HOME > Spaceplane Project > CONCEPT
Spaceplane concept
Our fully reusable suborbital spacecraft has unique advantages compared to ordinary rockets or other launchers with multiple engines.
- Capable of take off and landing like ordinary aircrafts
- The spacecraft is fully reusable.
- A single engine provides thrust for the entire flight by alternating combustion methods between jet mode and rocket mode.
Flight Profile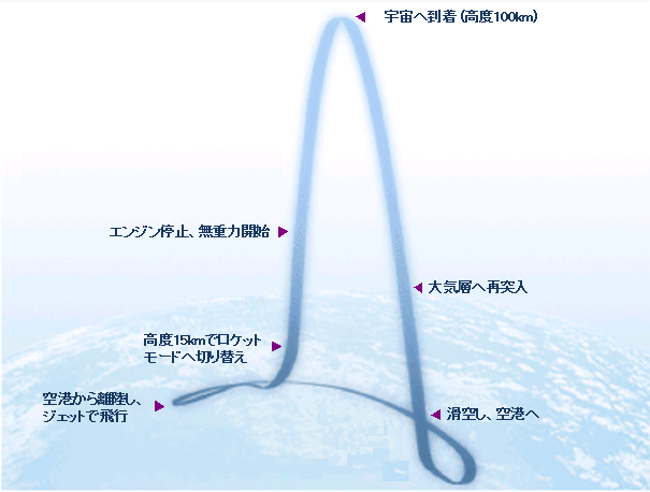 Engine
We are currently developing world's first rocket/jet dual mode pulse detonation engine to achieve Single Stage to Orbit. We successfully conducted mode switch experiment in 2017 and moving forward towards practical application of pulse detonation engine.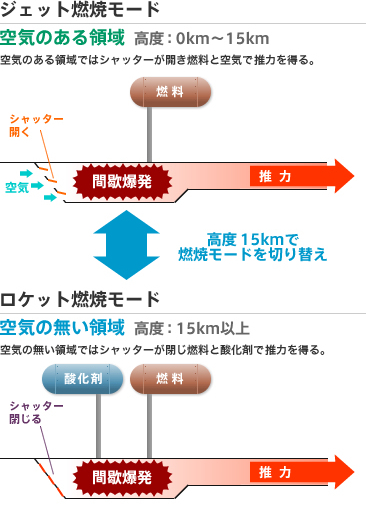 Obtained patent for an engine that switches between jet detonation and rocket detonation depending on surrounding atmospheric conditions.
(Patent no. 5014071)

- Simplicity of mechanism, high load, and high efficiency of such engine allows improved reliability and reduced flight cost.
- The engine can be restarted during return flight and landing, allowing the spacecraft to have standby and divertsion capabilities.