Campany
| | |
| --- | --- |
| Campany Name | PD Aerospace Co., Ltd. |
| Adress | Headquater :  3519 Arimatsu Midori-ku Nagoya Aichi 458-0924, JAPAN R&D center :  1-27 Minatohonmachi Hekinan Aichi 447-0844, JAPAN |
| Founded | May 30, 2007 |
| Capital | 60.4 million yen(Including capital reserve) |
| CEO | Shuji Ogawa |
| Headcount | 5 |
| Contact | 052-621-6996(representative) |
Access
Statement
"Bring space closer to us."
By venturing into the unknown of space, there is so much yet to be discovered and understood.
We may also obtain new resources including energy sources.
Looking over our planet from space will also make us reflect upon the preciousness of life and nature.
Going out to space comes with great difficulties and risks, but we believe there is much more benefits to be returned to humankind.
In order to bring space closer to us and move towards a more peaceful and prosperous world, PD Aerospace will continue to pursue its challenge in the field of "space transportation".
Philosophy
- To contribute to society with technology
- To maitain a harmony with space, the earth, nature and humanity
- To be a compnay that is expected to exist, to clarify the significance of itself through its activity
Policy
- Start from an indomitable challenge spirit
- If you do not have a way you can make it yourself
- Innovate rather than improve
- Know that time and workspace is limited, and act
Message from CEO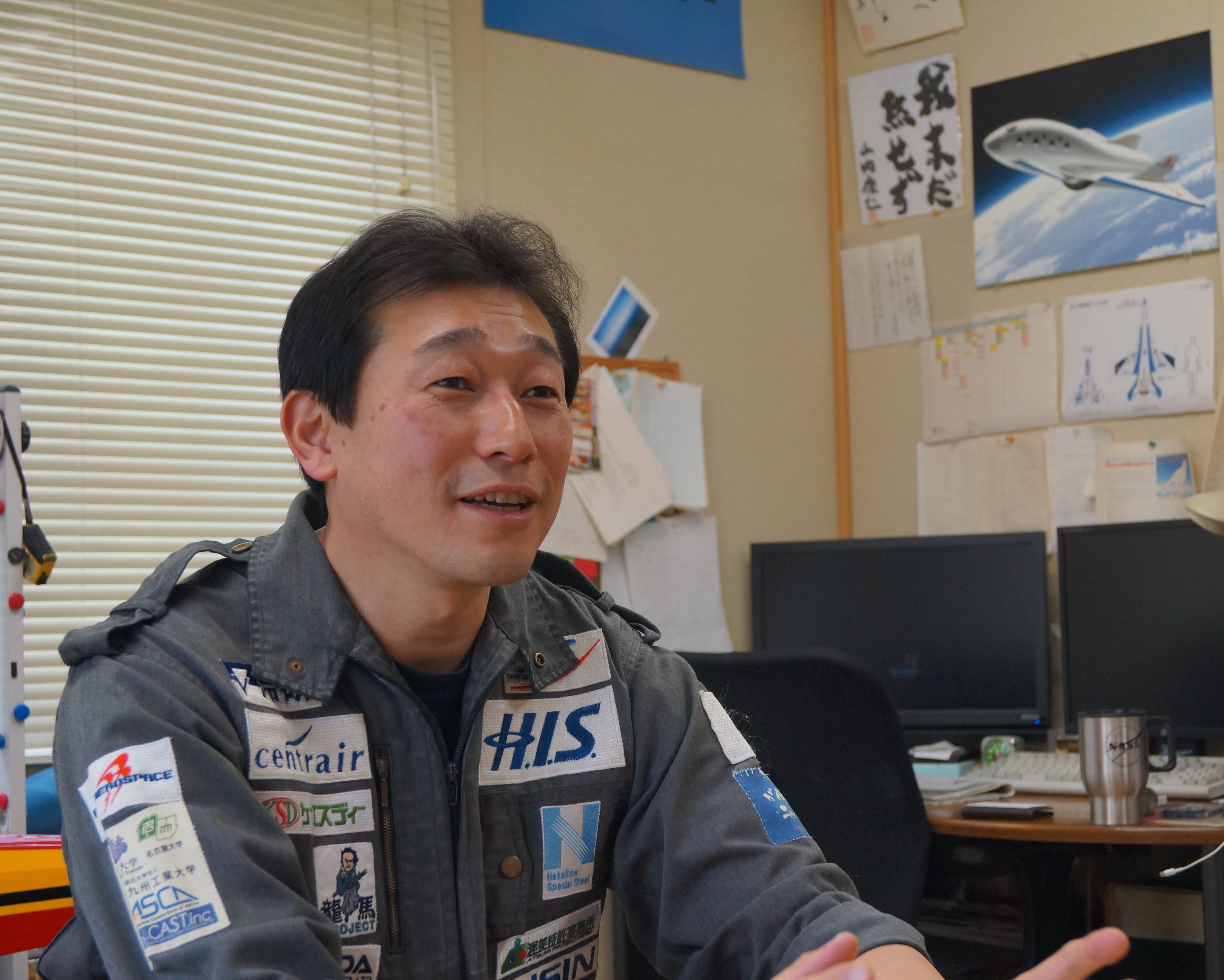 In the 21st century, space has become indispensable to our daily life.
In the future our activity in space will expand and diversify, leading to researches in many fields such as medical, industrial, and scientific to be conducted in space. In order for these researches to effectively produce results, industry, government, and academia must work together achieving high efficiency and comprehensibility. In order for Japan to be efficiently and freely develop activities in space, Japan needs its own space infrastructure. A space transportation system along with a general platform for utilizing space will be central to such infrastructure.
The installation of such space infrastructure of the upcoming generation has been my goal for a long time, and this passion is still strong in myself. Our company is not dependent on government policies or enormous funds; we are looking to develop a manned spaceplane as one private company. Fully mobilizing my knowhow and experiences I have gained in my previous careers, I wish to bring up a revolutionary technology in the field of aerospace, and hence bring our challenge to life.
"Everything stops once it is given up; the only path to success is to keep trying"
The simple idea of "cannot" is enough to make something impossible. Thinking of "how to achieve" is the starting point, and no matter how sizable a project is, what propels it forward is a collection such small starts.
At PD Aerospace, we are collecting individual contributions to progress in our challenge within the space sector. I hope and believe that our company's effort will be a shared passion among many, and that among our numerous collaborators, we will construct our future together.
Shuji Ogawa


Biography
| | |
| --- | --- |
| May '07 | PD Aerospace Co., Ltd. Established |
| February'08 | Participated in funding matching event |
| August'08 | Noshiro space event/demo flight |
| April'09 | R & D organization launched(by 3 universities/2 companies/JAXA volunteer) |
| August'09 | Visit space startup in L.A USA |
| February'10 | Next experiment machine (X 02) Design start |
| November'10 | Centrair Space Port initiative started(CV2020) |
| December'10 | Start development of new engine |
| February'13 | Inaugurated an extraordinary member of Cabinet Office Space Strategy Office Space Policy Committee (Space Transportation System Subcommittee) |
| December'13 | Joint research agreement signed with JAXA, Kyushu Institute of Technology |
| February'14 | Invited as speaker at TEDxNayabashi |
| March'14 | Visited and had technical meeting with the University of Texas, NASA Johnson Space Center, visited Spaceport America. |
Awards and Technical Contribution
November'07
Awarded N-1 Grand Prix Grand Prix (Nagoya 100 companies)
March'09
MEXT Dream Gate Finalist (213 companies nationwide)
July'09
Heinlein NewSpace Business Plan Competition 4th(NASA Ames)
September'10
Awarded Excellence Award of commemorative papers on the 5th anniversary of the opening of Chubu International Airport
 "The role that Centrair plays for the coming commercial space use era"
May '12
Pulse detonation engine (combustion mode switching) patented
August'12
Adoption of New Aichi Creative R & D Assistance Project "Demonstration Experiment on Remote Pilot Unmanned Airplane"
September'13
EY Entrepreneurs of the Year Tokai Hokuriku Area Special Award